And the trip has begun. I'm sitting here in the Harvey Hotel, about to choke down my vitamins. Laura and Tina are pontificating on the benefits of papaya, headily debating on whether some should be taken. The flight leaves at 8:30AM, meaning that we should technically be at that airport at 6:30AM. The wake up call has been set for 4:45, which might as well be in 15 miutes. From the ongoing conversation (regarding the reasons for the need of papaya) I can tell this roommate situation is going to be an adventure in lack of privacy barriers. The ultimate joke is that this blog has already taken care of that.
Excuse me a minute. Tina thinks she broke the toilet.
Wow. She did. I am required to not disclose the identity of the culprit to the maintenance man. Oh, Mario's here.
What are the odds we'd have a meatfest for dinner??? We went to Tony Roma's and it was scrump-dili-umptious. Tina ordered shrimp on a skewer *whoa! Mario had to go get another part! This was a major demolition job! My kingdom for a match!* and reasoned that it was totally different than our meat on a bone. I think that ribs are just pre-skewered. Laura and Carson had Filet Mignon while the rest of us had RIBS. Carson pirated a rib, as you can see:
"Did I miss any more sauce?"

Well, we're having a blast. Dang. Now 4:45 is 10 minutes away.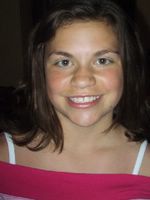 Happy to be on vacation

One last note. I got my new camera! It's going to take some reading and probably lessons, but I can already see a difference. Carson's picture was taken with the new one and Laura's the old. Anyway, it's fun. I'd love to sit here and take you further into the room's psyche, but now it's 4:45.